Beautiful Ways to use Calligraphy Gift Tags as Home Decor
I'll be the first to admit – I have a bit of an obsession with gift tags. From their petite size to their tidy shape which hint at suggestions of thoughtful gifts given and heartfelt messages hand written on them - what's not to love?
They have so many more uses than just being added to your gift wrapping. And if you're given a beautiful gift tag that you just can't bear to throw away (and why should you?) then you might like some of these ideas. They'll add some shabby chic charm to your home in no time whilst you get to admire the beautiful calligraphy written upon them.
Subscribe to Mirabelle Makery and get these pretty party invites delivered straight to your inbox
These small hanging decorations will add some meaning and interest to your decor easily and instantly. No matter how small your space you can add a certain je ne sais quoi and handmade loveliness to your home.
Read on for inspiration of how to use gift tags around your home for beautiful living every day. A click on the images will take you to the calligraphy gift tags in my shop.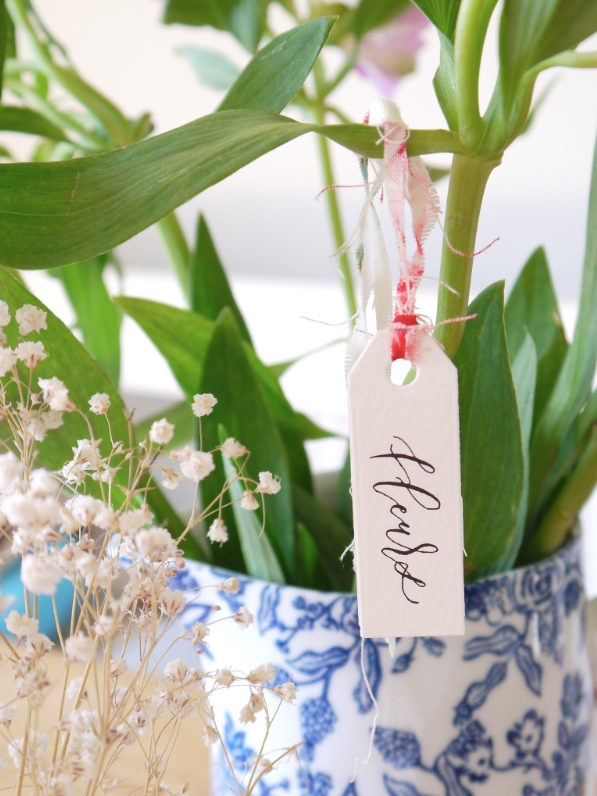 Why not tie a hand-lettered label to a plant stem or around the handle of a jug of flowers to make them sing even more. One or two words written on will be enough. Alternatively, fill an empty jam jar with flowers cut from the garden, wind some twine several times around the rim and then add on a gift tag. It's the small changes that make the biggest differences here.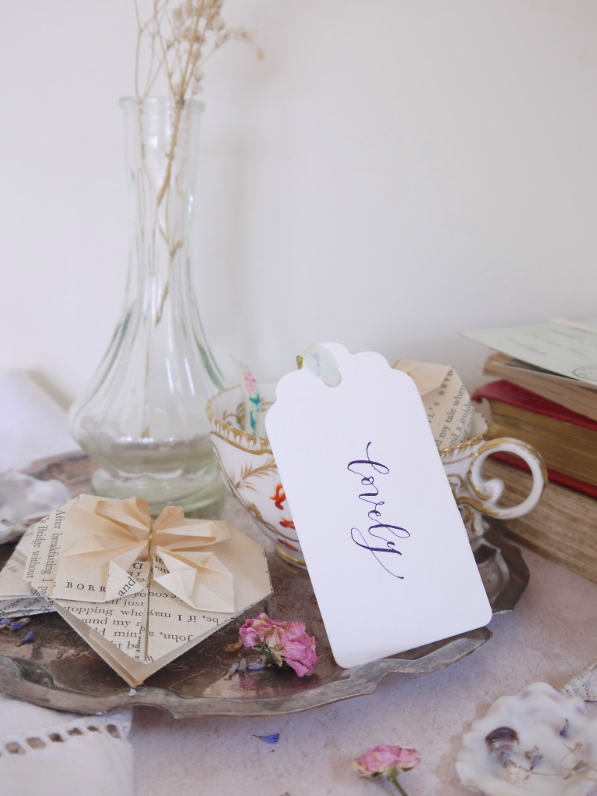 I don't know about you, but I'm a fan of faffing and making things look pretty. Give me a few vintage objects and foraged finds to arrange and I'm happy - even happier when a there's a calligraphy tag joining in. Style it with your favourite treasures on a shelf or tray on a table to complete the look. I can't resist Victorian tea cups, French glass vases and origami hearts folded from old books.
Add some pretty and practical organisation by attaching these small and sweet tags to fabric storage bins with a safety pin or tying them onto wicker baskets works just as well. Whether it's storing pegs or bottles in the laundry room or cosmetics in the bedroom, you'll know exactly where things are without having them on show.
Keeping a scrapbook is a lovely way to store photos and mementoes of a holiday or special occasion. Ticket stubs, cut-out articles and postcards can all be gathered and labelled for prosperity. Whether you make a collage that can be framed and put on show, or something more private, hand lettered gift tags will tie it all together.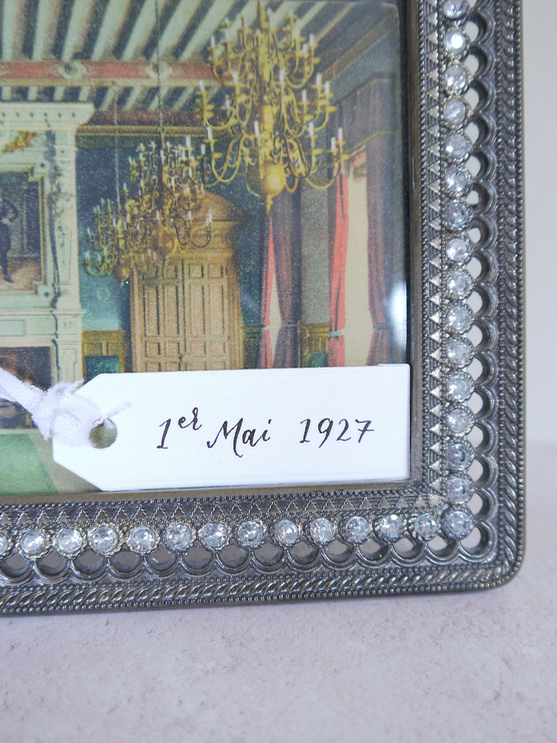 Adding a significant date to a gift tag will serve to jog the memory and can be placed on picture frames displaying family photos or artworks of a visited place. Consider tying two or three tags together with a date, a place and a quote to tell a story and remind you of a special occasion.
Although using calligraphy gift tags as home décor is just a small touch, it will add impact, albeit in a subtle way. Whether they're personalised with beautiful calligraphy, perhaps of your favourite quote, whimsical word or a quaint drawing, their understated presence will be enough to create layers of interest and meaning in your home.
You could use one or two of these gift tag ideas or sprinkle the look around and personalise your living space. The best bit is, it's so easy to achieve, have the benefit of being timeless and will make every day beautiful.
Shop for Calligraphy Gift Tags
Custom calligraphy to give or keep.
If you've loved reading this blog post then please share the love by pinning it to Pinterest. That way I can bring you even more!
Also, let me know your favourite idea from this blog in the comments box. What will you try? I'd love to know!